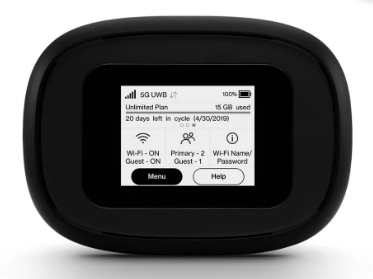 The Verizon M1000 Hotspot is a well-built brick that Measures 3.48 by 4.85 by 1.20inches thick and weighs 5.7 ounces. On the front of the hotspot, it has a larger 2.4-inch Color touch screen that allows you to manage your wifi networks and connected devices. Vents on the front face betray the presence of two actual fans inside. These are very quiet when running. The M1000 has a USB-C port for charging and connectivity on the front face, also included for the first time on a HotSpot a Full sized ethernet port on the rear.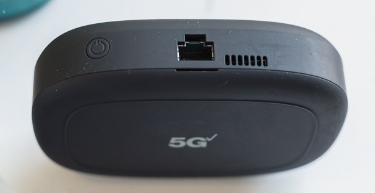 The M1000 hotspot can only support 16 devices, that would be 1 hardwired and 15 on the Wifi. The unit is Dual-band wifi 802.11AC, with Primary and guest networks. You can filter or blacklist devices, use VPNs services, firewall filters, and port forward. The wifi claims to broadcast 200feet from the hotspot. The 5G hotspot is using a 4,400MAH battery that should last 16 to 20 hours.
The Mifi M1000 hotspot lets you tether to your laptop via USB-C or, excitingly, Ethernet. Using the Ethernet port is a trip: You have to plug the hotspot into a wall and toggle a special setting to turn Ethernet on. Inseego said we'd get better speeds with Ethernet than with any other connection, but we got around 300Mbps using USB-C, and around 300Mbps using Ethernet.
Downloading files from large cloud service providers could be even slower. From OneDrive, we got 250-300Mbps with multiple transfers on multiple devices. Google Drive and Dropbox were both in the 100-150Mbps range. Once again, that's faster than my home internet connection. But somewhere, the device was losing most of its speed on the way to running actual applications.