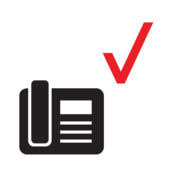 What is Verizon One Talk?
In this age of hyper-connectivity, you need to be able to field business communications at any place and time. Verizon One Talk provides a smart solution for small and medium-sized businesses.
One Talk is a multi-line telephone solution that can help employees who work in an office, are on-the-go and remote, or a combination of both. Your mobile telephone number is shared across multiple devices, giving you access to calls and business telephone features on any of your common devices, including smartphones, tablets and Verizon One Talk desk phones.
As a mobile first VOIP solution, One Talk means you never have to miss an important call again. With features like Verizon auto attendant, call queue, mobile app, desktop app, hunt group, and more, Verizon One Talk means anyone in an organization can work remotely or in the office. Wherever they happen to be, they will always be in reach and have an automated receptionist at their service. Communication with your business and clients is seamless with call move, letting you start a call on one device, and finish from another.



One Talk Overview
Can I use my existing desk phones with One Talk?
No, One Talk requires new desk phones from Verizon. A variety of accessories are available, including wired and wireless headsets.



One Talk Desk Phones
Can I use my existing telephone number as my One Talk number?
Yes, you can use existing mobile numbers or landline numbers as your One Talk phone number. There are a few limitations when porting existing Verizon mobile numbers and 800 numbers. Contact us for more details.
What are some of the available One Talk features?
Hunt Groups: Set rules for directing incoming calls to the first available line in the pre-defined group of One Talk users/lines.
Automated Receptionist (AR): Presents incoming callers with a greeting and options to choose from (press 1 for sales, etc.) and routes calls accordingly
Call Forwarding and Group Forwarding: Forwards calls to an incoming One Talk line (or group of lines) to a number of your choice, either for every call, only when the line is busy, when there's no answer, or selectively based on criteria you define.
Music On Hold: Plays a custom or default music when a caller is placed on hold or parked.
6 Way Conference Calling: Expand a call to include up to 6 participants without the need for a conference bridge.
Scheduled Hours: Define office hours of operation and holidays to utilize different call-management features based on your schedule.
Mobile App: Utilize your smartphone as a One Talk phone.
Desktop App: Utilize your Windows® PC or Apple® Mac® as a One Talk phone.
Call Queues: Route incoming calls to up to 40 One Talk lines to a queue, with routing options including Circular and Weighted.
Reporting & Analytics: Analyze One Talk usage with reports for detailed call history, hunt groups, auto receptionist, and call volume
Mobile Application

Can I use my existing telephone jack for my One Talk desk phone?
No, One Talk phones require an ethernet connection to plug in the cable provided with the phone. One Talk is an IP phone that does not run on POTS (plain old telephone service) lines. The One Talk desk phone connects to the LAN port on your router, just like a computer or network printer.

Connecting to the Network
If you only have one ethernet connection where you want to use the One Talk desk phone, that connection can be shared by using the internet port and PC port on the desk phone. If this option doesn't meet your needs, there are alternative options available - contact us to discuss.
How much does One Talk Cost?
The price for One Talk is typically $25/month per user. If you only add the One Talk dialer to your Android device or iOS Basic Dialer with no shared endpoints on the same mobile line, the price is $15/month. Auto Receptionists are $20/month, and Hunt Group numbers are free of charge. Contact us (see below to get started) for a complete quote including all of the equipment and features you need.
How do I get started?